Political change depends on the diversity of tactics which are used to make it. With the following chronology of actions we want to give some examples of different ways to express our protest.
Thanks to all the activists who did show solidarity with us and our demands. Please write us if we can add something.
2018
01.02. – Leipzig
Vortrag zur Kriminalisierung von Seenotrettung mit einem Erfahrungsbericht von Jugend Rettet e.V.
2017
18.12. – Leipzig
After the self-organized project Hotel City Plaza Athens called for international action days to give more attention to the deadly consequences for and dramatic circumstances of refugees, we took part with a small action in Leipzig.
07.12 – Leipzig
Speech at the demonstration against the conferenc of german home secretaries. We talked about the inner security against migrants, about new technologies to improve controll and deportations and about the term "Gefährder" ('endangerer').
07.10 – 08.10 – Malmö
Together with FARR (Swedish Network of Refugee Support Groups) we arranged a weekend of lectures about CEAS and externalization of borders and workshops about resistance.
13.08 – Leipzig
We created a wallpaper about the CEAS  to inform people on the streets (english and other translations will follow up soon).
28.06 – Leipzig (Airport LEJ)
Demonstration against deportation (which in the end didn't happen): "Ready to block" (with Protest LEJ and Asylum Seekers Movement).
21.06 – Leipzig
Info Event: "Vor Europa´s Grenzen" (with One World One Struggel)
09.06 – Leipzig
Discussion about asylum in Germany: "Unsere Asylpolitik?"
14.06 – Malmö
The day before the responsible committee in the European parliament voted on the qualification regulation, we launched a video with a simple explanation of the proposal.
07.06 – Leipzig
"Grassi Talks: now!" – Discussion-round about Dublin IV (with Max Pichl)
05.18 – Malmö
Speech at the demonstration after the nationwide strike for humane aslyum politics in Sweden.
05.01 – Malmö
We attended the Revolutionary 1st of May demonstration in Malmö and held a speach about Fortress Europe and CEAS.
28.04 – Malmö
We interrupted an open meeting with European Commissioner Cecilia Malmström, surprised to be accompanied by activists from the movement Rätten till våra kroppar.
Här är filmen från gårdagens aktion med Cecilia Malmström på Malmö högskola! Meddelandet som vi spelade upp på scen har lagts till som ljudfil i klippet för att ni som inte var på plats ska kunna höra det ordentligt. Dela och sprid! <3

Gepostet von inEUmanity malmö am Freitag, 28. April 2017
23.03 – Malmö
We interrupted the Swedish EU-comissions "EU-day" at Lund University. We made sure to tell about the consequences of european asylum politics. Along with this we sent an open letter to the swedish EU parliamentarians, which also was published in Fria Tidningar.
17.03 – 25.03 – Dresden
"Dublin4Never – Aktionswoche Asyl": theater and info-events in Dresden organized by our friends from CoA – Connecting Activists.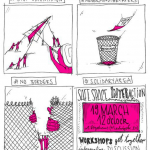 18.03 – 23.03 – Leipzig
Support of the 'welcome2stay' action-days. Different groups from Leipzig tried put more attention on anti-racist topics and to create some space for networking.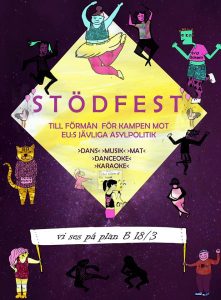 18.03 – Malmö
We had a support party to raise money for our local group. The venue we had was full (for the very first time)!
11.02 – Malmö
We arranged a lecture about the Common European Asylum System and the externalisation of borders at Kvarnby Folkhögskola. Along with this, we published an article in Fria Tidningar.
30.01 – Dresden
"No capitlaism without rascism", our speech for a demonstration against 'Pediga'
07.01 – Dessau
12 years ago Oury Jalloh was murdered by German police. Officially it is still handled as suicide. To have an active remerberance people are demonstrating every year in Dessau. We gave a short speech for this demonstration.
2016
26.12 – Leipzig
Banner drop and flyer action to critizies the christmas-charity: 'KapitalXmas'
10.12 – Leipzig
Some activists blocked a street for some minutes to critizies the EU-agenda against refugees. The action was in solidarity with ineumanity and should also put some attention on the coming deportation from airport Leipzig/Halle.
07.12 – Leipzig
Info-event: "Europa hinter Grenzen – Serbien, Ungarn, Zaun dazwischen"
05.12 – Leipzig
Activists did show protest against a discussion about  political "extremism", violence and debate (AfD and CDU took part).
30.11 – Leipzig (Airport LEJ)
Symbolic protest at the airport in solidarity with people who get deported from there. Additionally we spread flyer
28.11 – Leipzig
Info-event about Dublin IV and the context: 'Abschottung und Dublin IV'
26.11 – Vienna
We gave a speech during the demonstration "Let Them Stay! Lasst Sie Bleiben!"
25.11 – Leipzig
At our very begining there was already shown solidarity to us. Some activists dropped a banner at the University of Leipzig.
[Please write us if you would like to contribute some content to this page!]